Can I transfer my current Bitcoin/Crypto from a different IRA provider (an In-Kind transfer)?
Yes, we perform In-Kind transfers from other crypto IRA platforms (an In-Kind transfer would allow you to transfer over your crypto without liquidating it into USD)
Can I transfer my crypto from my wallet/exchange into an IRA with iTrustCapital?
No, due to IRS regulations, new contributions to an IRA need to be funded with USD
How long will it take to process my transfer?
The transfer process takes approximately 7-10 business days from start to finish

Here is some more information about how to complete your transfer form once it's been uploaded to your dashboard
Where can I find my Transfer Form?
After creating a pending inflow for an IRA Transfer, you should receive a blank Transfer Form in the "My Documents" section of your dashboard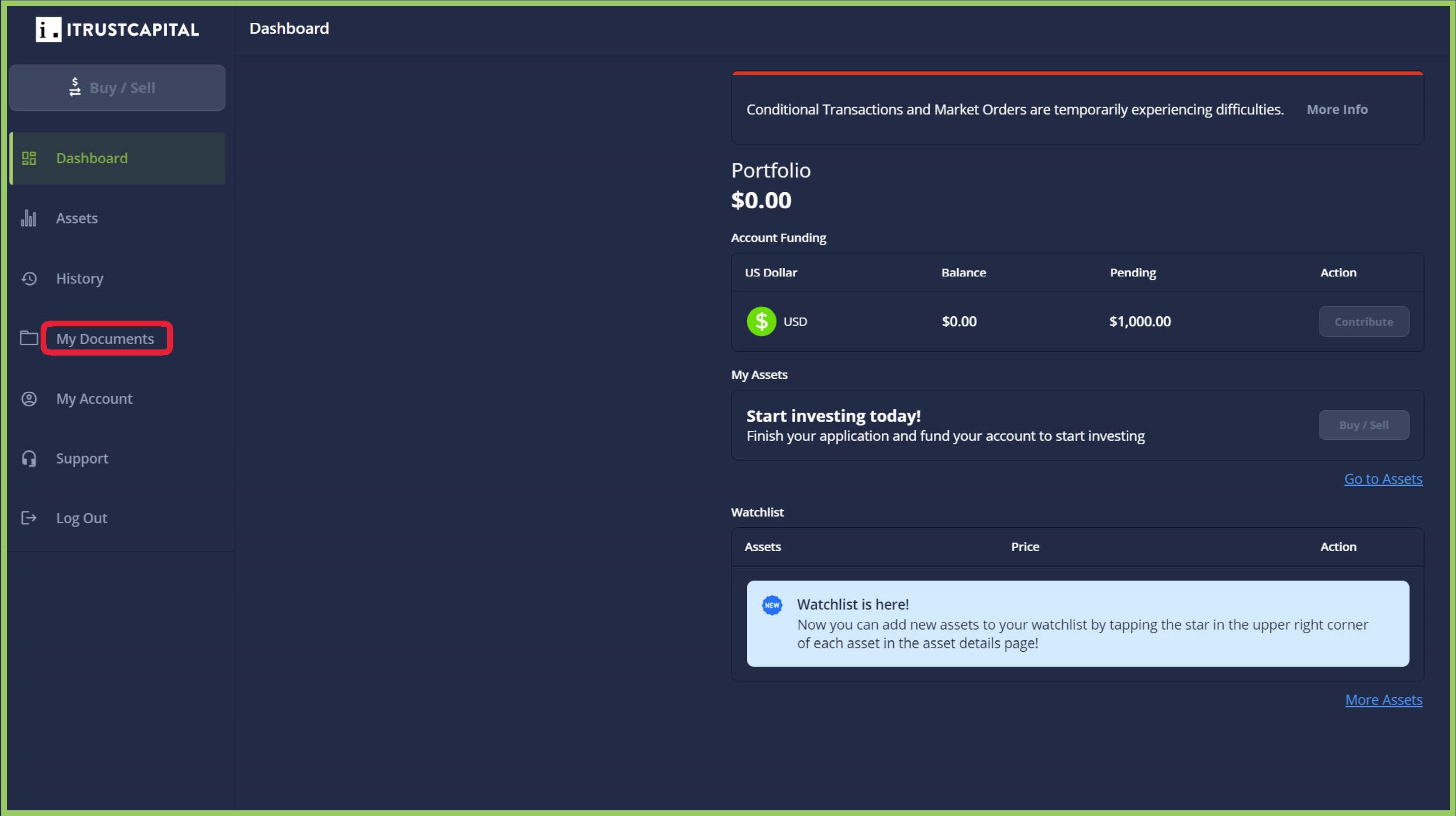 My Transfer Form isn't downloading on my portal. How can I get my Transfer Form?
If you cannot download your Transfer Form from your dashboard, please submit a request under "Account Funding". While completing the request, select that you have received the Transfer Form. In the description box please inform our agents of your difficulties with the download. After submitting the request, one of our representatives will send your Transfer Form, password protected with your service pin.
Can I transfer my funds by ACH?
No, transfers can be sent via wire or check, as displayed on your Transfer Form
What's the minimum I must transfer?
Required minimum amount to transfer is $1,000
What is iTrustCapital's fax number?
(855) 496-8303 (It can also be found at the top right corner of your Transfer Form)
Can I transfer my pretax IRA account into a Roth IRA with you?
Yes, you can transfer a pretax IRA into a Roth IRA (this could create a taxable event - please speak with your CPA or tax advisor for more information on this matter)
Are there fees for transferring in or out of iTrustCapital?
When transferring in or out of our platform, you will not be charged fees (please consider that you may sustain costs from your previous IRA provider when you move out of their platform)
Where are my transfer funds?
If you have uploaded your signed Transfer Form back to your Dashboard, please expect the following:
Keep an eye on your inbox as you will receive an email after your Transfer Form has been approved and a second email once your form has been sent to your current custodian (please note that this process will approximately take 4-5 business days)
If you have received both of these emails and your account is still not funded, we recommend that you follow up with your current custodian to confirm receipt of the Transfer Request that we sent. Your current custodian will let you know if they sent the funds via wire or check.
Are you still having trouble? Please submit a request.
When can I transfer out of ITrustCapital?
In the unfortunate event that you would like to transfer out to another IRA provider, we do not require you to hold your funds/assets for a certain amount of time
Please note: The only exception is if you funded your account with an ACH cash contribution as those funds would have to remain within your IRA for 90 days once the funds have been released to the platform
Can I transfer out In-Kind?
Yes, you may transfer out to another crypto IRA provider without having to liquidate the assets if the receiving institution allows it
Will there be penalties or taxes when transferring my IRA?
When transferring funds from an existing IRA into iTrustCapital, there are no penalties or taxable events except when converting a pretax IRA/401(k) to a post-tax Roth IRA.
For more insight about taxable events, please visit the IRS.gov chart here.
** This is for informational purposes only. iTrustCapital does not give tax advice. We recommend you consult with a tax professional.
0
0
Was this article helpful?
0 out of 0 found this helpful